Just a portable monitor? No way. Our monitors are an entire suite of office and entertainment features packed into the lightest portable touchscreen monitor ever. It's your 4K screen, it's your dongles, it's your charger, it's your speakers, and it's fully customizable to be whatever else you need. Get rid of all the clutter in your briefcase or backpack. Our monitors are all you need:
Brilliant 4K or 1080p resolution: ultra bright and true LED backlight
Plug & play: no set up required
Universal compatibility: use with all cables, operating systems, devices, and softwares
Portable, slim, and lightweight: carry it with you anywhere
Portable monitors DO NOT include a magnetic cover stand. They must be purchased here. Highly recommended for optimizing your experience!
| | |
| --- | --- |
| | |
| | |
| | |
| | |
| | |
| | |
| | |
| | |
| | Type-C / mini HDMI / Micro-USB |
| | |
| | |
| | |



This touchscreen monitor is powered by a True LED backlight that guarantees the deepest blacks and most explosive colors ever seen on a portable monitor.
---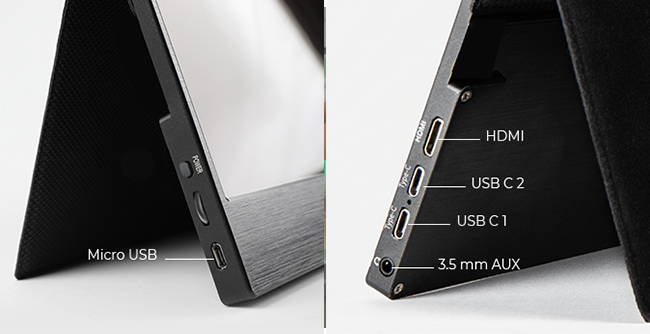 Adapters, cables, and converters are costly and take up valuable space. This monitor is universally compatible with all devices so you will never have to worry about accessibility. It isn't just for laptops. You can connect to any device and turn it into a 4K workspace or entertainment system. It is also universally compatible with all operating systems and devices, including iOS, Android, Windows, and Google. No formatting or setup is required. Once you plug this monitor into your device, you can get to work right away.
---


Laptop
(Macbook, Windows laptop)
Tablet
(Android Tablet, iPad)

All Smartphones
(iPhone, Android phones)








Smart TV Devices
(Chromecast)
Do you really need all these adapters?
This monitor has everything you need!
This monitor's dual speakers were designed by world class sound engineers, and they're the most advanced speakers to be found in a portable monitor. Transform your phone or tablet into a comprehensive workspace or entertainment system without the need for clunky external speakers.
---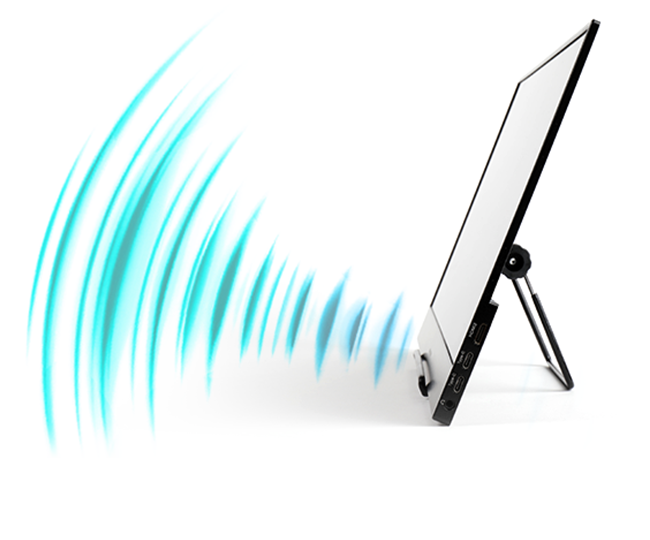 Enjoy greater immersion into your videos, music, and favorite TV shows.
Tap, drag, pinch, zoom, scroll, or spin with your DLab
*NOTE: Touchscreen will only work on devices that have been designed to receive touchscreen signals. For example - MacBooks cannot receive touchscreen inputs. Other devices that are not already touchscreen-enabled will also not be able to receive input touchscreen signals. If your connected laptop is not already touchscreen compatible, DLab will not be touchscreen compatible. If you have question, please Contact Us.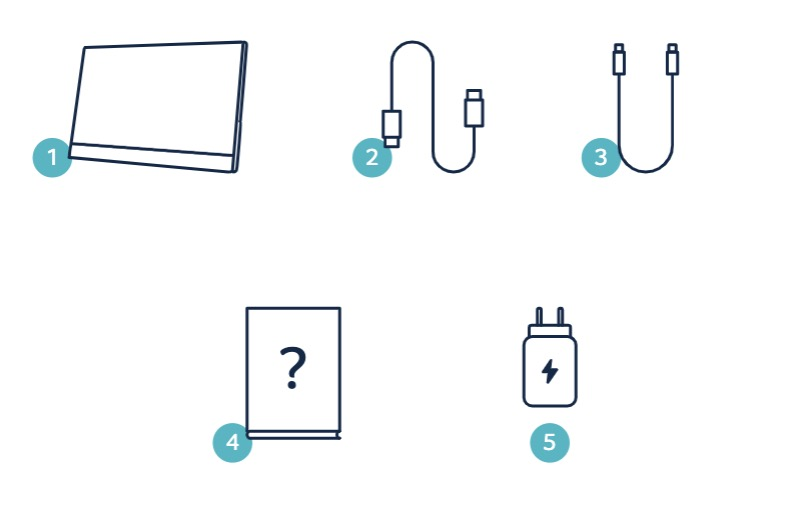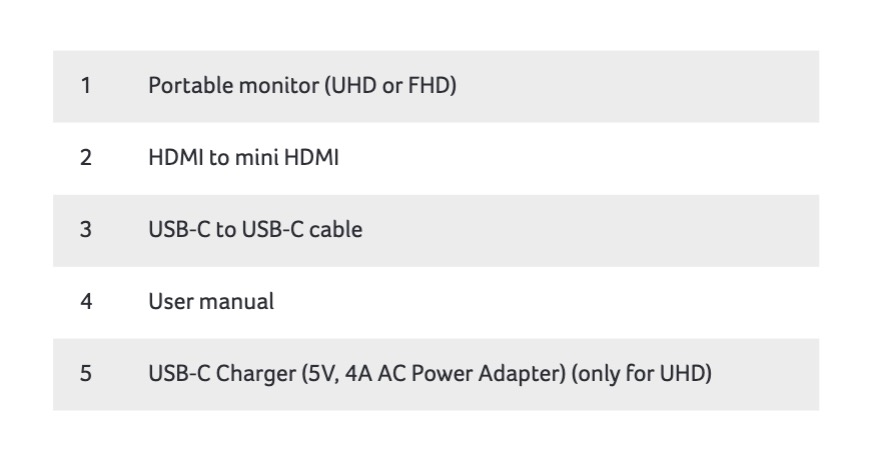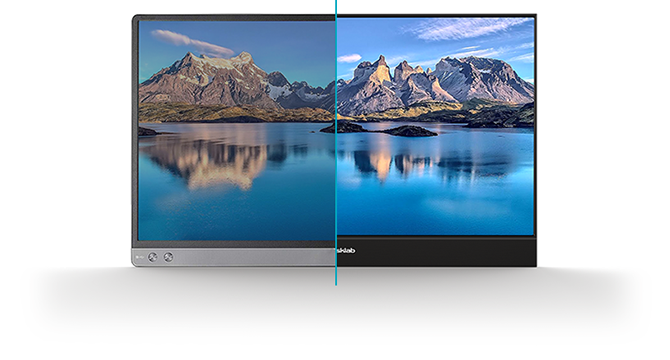 Brighter is better, especially when you're on the go. You can't always depend on the optimal lighting conditions when you're out and about, so this touchscreen monitor was made to be twice as bright as competing portable monitors. It's ultra-bright screen allows you to work in high-light and low-light with the same stunning image clarity.
---
Other monitors drain your device's battery in just a few hours. What's the point of using an on-the-go monitor if you can't even make it through a meeting or a movie without needing a power source? The industry's top engineers designed monitor to outperform and outlast, and their breakthrough technology allows this portable monitor to run in brilliant 4K while consuming less power than leading monitors. That means you get more work done, more gaming action, and more power on the go with it.
---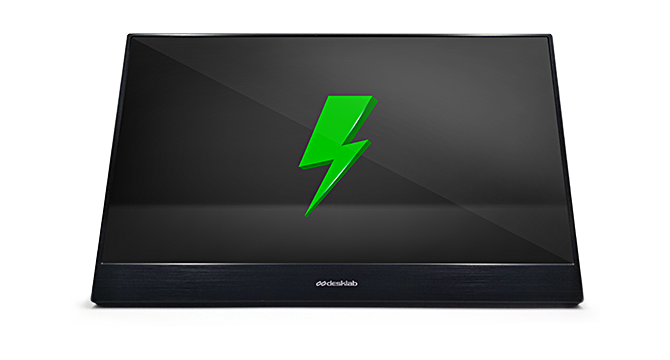 Staring at screens all day is bad for your health. The good news is, we have the technology to solve the problem. The bad news? Most monitors don't use it. This monitor utilizes multiple eye-protecting features so you can power through overtime or crush those all-night study sessions without the migraines, itchy eyes, and blurry vision.
---
How DLab protect your eyes

Screen flickering is not perceptible to the eye, but it's a known cause of headaches and vision damage and it can even trigger epileptic seizures.
Glare is one of the top causes of eye discomfort in the office. Not to mention, it's a nuisance and a concentration killer.

Blue light exposure is said to lead to macular degeneration, and it can cause insomnia by disrupting the body's circadian rhythms.
We started by a team of engineers that believe in something more than gadgets.
Gadgets were great back in the day, but in the modern world, we have the power to consolidate all the functions of our gadgets into one, lightweight system. So why do we fill our bags and pockets with more gadgets, cables, and accessories than ever before?
Our engineers had a solution. They sought to put an entire suite of functions for work and play into one ultra-light monitor. It's not a laptop, and it's not a tablet. Instead, it brings the functionality of a cutting-edge workstation to any device on the planet.
You don't need gadgets. You don't need accessories. You don't need clutter and excess weight.
---